Ver ítem
xmlui.general.dspace_homeCentros Regionales y EEAsCentro Regional Patagonia NorteEEA BarilocheArtículos científicosxmlui.ArtifactBrowser.ItemViewer.trail
Enteritis hemorrágica en un equino atribuida a Clostridium perfringens tipo A.
Resumen
La muerte de equinos con cuadros clínicos de cólico es frecuente, especialmente en animales estabulados y con fines deportivos. Sin embargo, al ser muy bajo el porcentaje de animales que son necropsiados y muestreados, la mayoría de los casos queda con un diagnóstico incierto, que impide establecer la causa de muerte. En el presente trabajo se presentan y analizan los hallazgos clínicos, histopatológicos y bacteriológicos de un equino que muere a las 48 h [
ver mas...
]
The death of horses with clinical symptoms of colic is common, especially in confined and for sport animals. Since a small percentage of death horses due to colics are necropsied and sampled, it prevents Vets to reach a final diagnosis and to establish the cause of death. The aim of the present work was to describe the clinical, histopathological and bacteriological findings of a horse that died after having colics. The most important findings observed [
ver mas...
]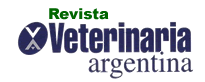 Fuente
Veterinaria Argentina XXXIII (Nº 338) : 1-8 (junio 2016)
Editorial
Veterinaria Argentina S.R.L.
Tipo de documento
artículo
Palabras Claves
Caballos; Horses; Clostridium Perfringens; Enfermedades de los Animales; Animal Diseases; Enterotoxemia; Enterotoxaemia; Cólico del Caballo; Colic of Horse; Enteritis Hemorrágica;
Derechos de acceso
Abierto

Excepto donde se diga explicitamente, este item se publica bajo la siguiente descripción: Creative Commons Attribution-NonCommercial-ShareAlike 2.5 Unported (CC BY-NC-SA 2.5)