View Item
xmlui.general.dspace_homeCentros e Institutos de InvestigaciónCIAP. Centro de Investigaciones AgropecuariasInstituto de Patología VegetalArtículos científicosxmlui.ArtifactBrowser.ItemViewer.trail
Striking differences in the biological and molecular properties of onion and garlic isolates of onion yellow dwarf virus
Abstract
Complete nucleotide (nt) and deduced amino acid sequences of two onion yellow dwarf virus (OYDV) isolates showing mild and severe symptoms in onion but being unable to infect garlic were determined. The genomes consisted of 10,459 and 10,461 nt (without the 3' poly(A) tail) and were 92.2 % identical. Comparison of their whole genomes, polyproteins and P1, HC-Pro, P3, CI, VPg and NIa-Pro regions with those of garlic isolates previously identified as OYDV [
ver mas...
]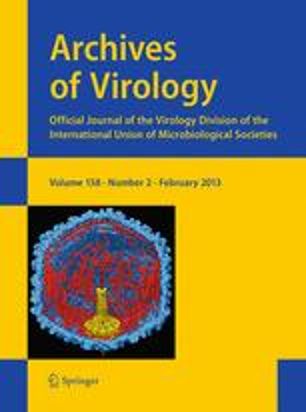 Fuente
Archives of virology 158 (6) : 1377–1382. (June 2013)
ISSN
0304-8608
1432-8798 (Online)
Tipo de documento
artículo
Palabras Claves
Ajo; Garlic; Cebolla; Onions; Allium Sativum; Allium Cepa; Virus de las Plantas; Plant Viruses; Soybean Mosaic Virus; Virus Mosaico Soja; Coat Proteins; Proteínas de la Cubierta; Bean Yellow Mosaic Virus; Virus Mosaico Amarillo del Frijol; Species Demarcation;
Derechos de acceso
Restringido

Excepto donde se diga explicitamente, este item se publica bajo la siguiente descripción: Creative Commons Attribution-NonCommercial-ShareAlike 2.5 Unported (CC BY-NC-SA 2.5)
Related items
Showing items related by title, author, creator and subject.
Pozzi, Elizabeth Alicia

;

Bruno, Cecilia Inés

;

Luciani, Cecilia

;

Celli, Marcos Giovani

;

Conci, Vilma Cecilia

;

Perotto, Maria Cecilia

(

Springer

,

2020-02

)

Environmental heterogeneity can shape the plant-virus relationship, furthering the appearance of new diseases in crops, or altering disease incidence and severity. In this work, we studied the virus association with ...

Perotto, Maria Cecilia

(

EEA San Pedro, INTA

,

2022

)

Las principales virosis que afectan al zapallito redondo son las producidas por virus del género Potyvirus. Hay 4 especies de este grupo presentes en Argentina, estos son: Watermelon mosaic virus (WMV), Zucchini yellow ...

Carrasco, Franca Denise

;

Brugo Carivali, María Florencia

;

Perotto, Maria Cecilia

;

Balbi, Fernando Dario

;

Ignes, Carlos Mariano

(

EEA Catamarca, INTA

,

2022-04

)

Las enfermedades virales provocan pérdidas económicas muy importantes en numerosos cultivos, incluyendo las cucurbitáceas (melón, pepino, sandía, calabaza y zapallo). Existen un importante número de virus afectándolos en ...