View Item
xmlui.general.dspace_homeCentros Regionales y EEAsCentro Regional Patagonia NorteEEA BarilocheArtículos científicosxmlui.ArtifactBrowser.ItemViewer.trail
Do Texas Angora bucks improve mohair weight and quality traits of Tajik Angora goats?
Abstract
Productores de angora en Tajikistán del Norte levantan alrededor de 200,000 cabras De angora y productos alrededor de 300 toneladas de mohair. ¿Hay aproximadamente 500 productores pequeños, medios y más grandes con 100-500 cabras, varias cooperativas (antiguas granjas estatales) que levanta varios miles de cabras y cientos de las casas que tienen pequeño? ocks de 10-15 cabras. Pastan las cabras todo el año, productos alrededor de 1.5 kilogramos de mohair [
ver mas...
]
With the main objective of improving Tajik mohair quantity and quality, frozen semen from eight top performance tested Texan Angora bucks was imported and used on 459 selected local goats from 11 farmers in two insemination seasons. Conception rates in both seasons were very low. Sixty six Texan x Tajik crossbred progeny were compared with 308 contemporary Tajik controls. Early live body weights, mohair quantity and mohair quality data were collected and [
ver mas...
]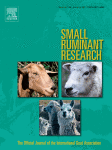 Fuente
Small ruminant research 134 : 74-78. (January 2016)
Tipo de documento
artículo
Palabras Claves
Producción de Lana; Caprinos; Goats; Razas (Animales); Breeds (Animals); Wool Production; Fibras de Origen Animal; Animal Fibres; Mohair; Raza Angora;
Derechos de acceso
Restringido

Excepto donde se diga explicitamente, este item se publica bajo la siguiente descripción: Creative Commons Attribution-NonCommercial-ShareAlike 2.5 Unported (CC BY-NC-SA 2.5)