View Item
xmlui.general.dspace_homeCentros e Institutos de InvestigaciónCICPES. Centro de Investigación en Ciencias Políticas, Económicas y SocialesInstituto de EconomíaArtículos científicosxmlui.ArtifactBrowser.ItemViewer.trail
What factors explain the price of top quality wines?
Abstract
Dada la creciente oferta de vinos y la gran cantidad de nuevos consumidores con poder adquisitivo pero que carecen del conocimiento de las sutilezas de los vinos de alta calidad, las opiniones de los expertos se utilizan para los consumidores como indicadores de calidad. Este estudio tiene como objetivo determinar los determinantes de los precios en el mercado de vinos de alta calidad. Los autores también buscan estimar el papel del país de origen, la [
ver mas...
]
Purpose: Given the growing supply of wines and the large number of new consumers with purchasing power but lacking knowledge of the subtleties of high-quality wines, expert opinions are used for consumers as proxies for quality. This study aims to determine the determinants of prices in top-quality wine market. The authors also seek to estimate the role for country of origin, grape, producing region and winery in prices. And, finally, the authors try to [
ver mas...
]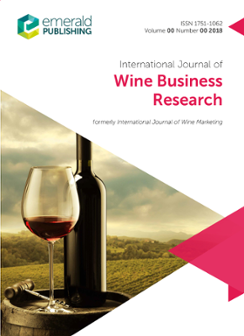 Fuente
International Journal of Wine Business Research 30 (1) : 117-134. (2018)
Tipo de documento
artículo
Palabras Claves
Modelos Econométricos; Econometric Models; Sector Económico; Economic Sectors; Economía; Economics; Price Fixing; Fijación de Precios; Wines; Vinos; Econometría; Econometrics; Precios; Prices; Quality; Calidad; Modelos Hedónicos; Hedonic Model;
Derechos de acceso
Restringido

Excepto donde se diga explicitamente, este item se publica bajo la siguiente descripción: Creative Commons Attribution-NonCommercial-ShareAlike 2.5 Unported (CC BY-NC-SA 2.5)