View Item
xmlui.general.dspace_homeCentros Regionales y EEAsCentro Regional Patagonia SurEEA Santa CruzPartes de librosxmlui.ArtifactBrowser.ItemViewer.trail
Central and South America
Abstract
The chapter is divided into two main sections. The first section follows an integrative approach in which hazards, exposure, vulnerability, impacts and risks are discussed following the eight climatically homogeneous sub-regions described in WGI AR6 (Figure 12.1). The second section assesses the implemented and proposed adaptation practices by sector; in doing so, it connects to the WGII AR6 crosschapter themes. The storyline is then a description of the [
ver mas...
]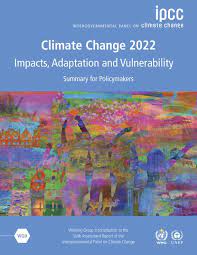 Author
Castellanos, Edwin J.; Lemos, Maria Fernanda; Astigarraga, Laura; Chacón, Noemí; Cuvi, Nicolás; Huggel, Christian; Miranda Sara, Liliana Raquel; Moncassim Vale, Mariana; Ometto, Jean Pierre;
Peri, Pablo Luis;
Postigo, Julio C.; Ramajo Gallardo, Laura; Roco, Lisandro; Rusticucci, Matilde Monica;
Editor - Compilador
Pörtner, H.-O.; Roberts, D.C.; Tignor, M.; Poloczanska, E.S.; Mintenbeck, K.; Alegría, A.; Craig, M.; Langsdorf, S.; Löschke, S.; V. Möller, A.; Okem, A.; Rama, B.;
Fuente
Climate Change 2022: Impacts, Adaptation and Vulnerability. Contribution of Working Group II to the Sixth Assessment Report of the Intergovernmental Panel on Climate Change. Cambridge University Press, Chapter 12, p. 1689-1816.
Editorial
Cambridge University Press
Tipo de documento
parte de libro
Palabras Claves
Climate Change; Cambio Climático; Hazards; Riesgos; Vulnerability; Vulnerabilidad; Impacts; Impactos; Adaptation; Adaptación; Risk; Riesgo; Ecosystems Services; Servicios de los Ecosistemas; Adaptation; Adaptación; Climatic Factors; Factores Climáticos; Mitigation; Mitigación; Indigenous Peoples; Comunidades Indígenas; Sustainability; Sostenibilidad; Governance; Gobernanza; Land Use Change; Cambio de Uso de la Tierra; Deforestation; Deforestación; Biodiversity; Biodiversidad; Soil Degradation; Degradación del Suelo; Resilience; Resiliencia; Conservation; Conservación; Glaciers; Glaciares; American Region; Región Americana; Central and South America; América Central y del Sur; Increasing Temperature; Incremento de la Temperatura; Ocean and Coastal Ecosystems; Ecosistemas Oceánicos y Costeros;
Derechos de acceso
Abierto

Excepto donde se diga explicitamente, este item se publica bajo la siguiente descripción: Creative Commons Attribution-NonCommercial-ShareAlike 2.5 Unported (CC BY-NC-SA 2.5)