View Item
xmlui.general.dspace_homeCentros Regionales y EEAsCentro Regional Buenos Aires SurEEA BalcarceArtículos científicosxmlui.ArtifactBrowser.ItemViewer.trail
Can anoxic atmospheres protect the quality of maize seeds during storage?
Abstract
Low oxygen atmospheres have proven to be effective to protect seed quality in many species during storage. In maize, however, the evidence is ambiguous since positive, negative, and neutral effects were reported. These apparent contradictions might relate to the different experimental conditions explored in previous studies (i.e., combinations of oxygen concentration, relative humidity, and temperature). The aim of this work was to study the effect of [
ver mas...
]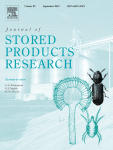 Fuente
Journal of Stored Products Research 96 : 101927 (March 2022)
Tipo de documento
artículo
Proyectos (ver más)
INTA/2019-PE-E7-I147-001/2019-PE-E7-I147-001/AR./INOCUIDAD DE ALIMENTOS PARA CONSUMO HUMANO Y ANIMAL
INTA/2019-PE-E7-I148-001/2019-PE-E7-I148-001/AR./Procesos y tecnologías sostenibles para el agregado de valor en las cadenas y regiones.
INTA/2019-PD-E7-I153-001/2019-PD-E7-I153-001/AR./Estrategias tecnológicas innovadoras para la transformación y preservación de alimentos
INTA/2019-PE-E7-I517-001/2019-PE-E7-I517-001/AR./Calidad nutricional y sensorial de alimentos y aptitud tecnológica de materia prima asociada a sistemas y territorios productivos con foco en las demandas del consumidor.
Palabras Claves
Almacenamiento Atmósfera Controlada; Controlled Atmosphere Storage; Germinación; Germination; Vigor de la Semilla; Seed Vigour; Modelos Lineales; Linear Models; Maíz; Maize;
Derechos de acceso
Restringido

Excepto donde se diga explicitamente, este item se publica bajo la siguiente descripción: Creative Commons Attribution-NonCommercial-ShareAlike 2.5 Unported (CC BY-NC-SA 2.5)