View Item
xmlui.general.dspace_homeCentros Regionales y EEAsCentro Regional Buenos Aires SurEEA BalcarceTesisxmlui.ArtifactBrowser.ItemViewer.trail
Epidemiología del tomato spotted wilt virus en el contexto de la virosis de papa en el sudeste bonaerense y Argentina.
Abstract
El Sudeste Bonaerense es la principal región productora de papa para consumo, industria y semilla en Argentina. Las virosis afectan el rendimiento y la calidad de los tubérculos de la papa. La transmisión de los virus es mediante insecto-vector y papa-semilla utilizados en la propagación vegetativa. Los objetivos planteados en esta tesis son: contribuir al conocimiento de las virosis de papa en Argentina; determinar las características de la translocación [
ver mas...
]
The Southeast of Buenos Aires province is the main producing area of potato for fresh consumption, industry and seed production in Argentina. Viral diseases affect tuber yield and quality. Viruses are transmitted through insect vectors and seed tubers used for vegetative propagation. The aims of this thesis are to contribute to the knowledge of potato viral diseases in Argentina; to determine the characteristics of tomato spotted wilt virus (TSWV) [
ver mas...
]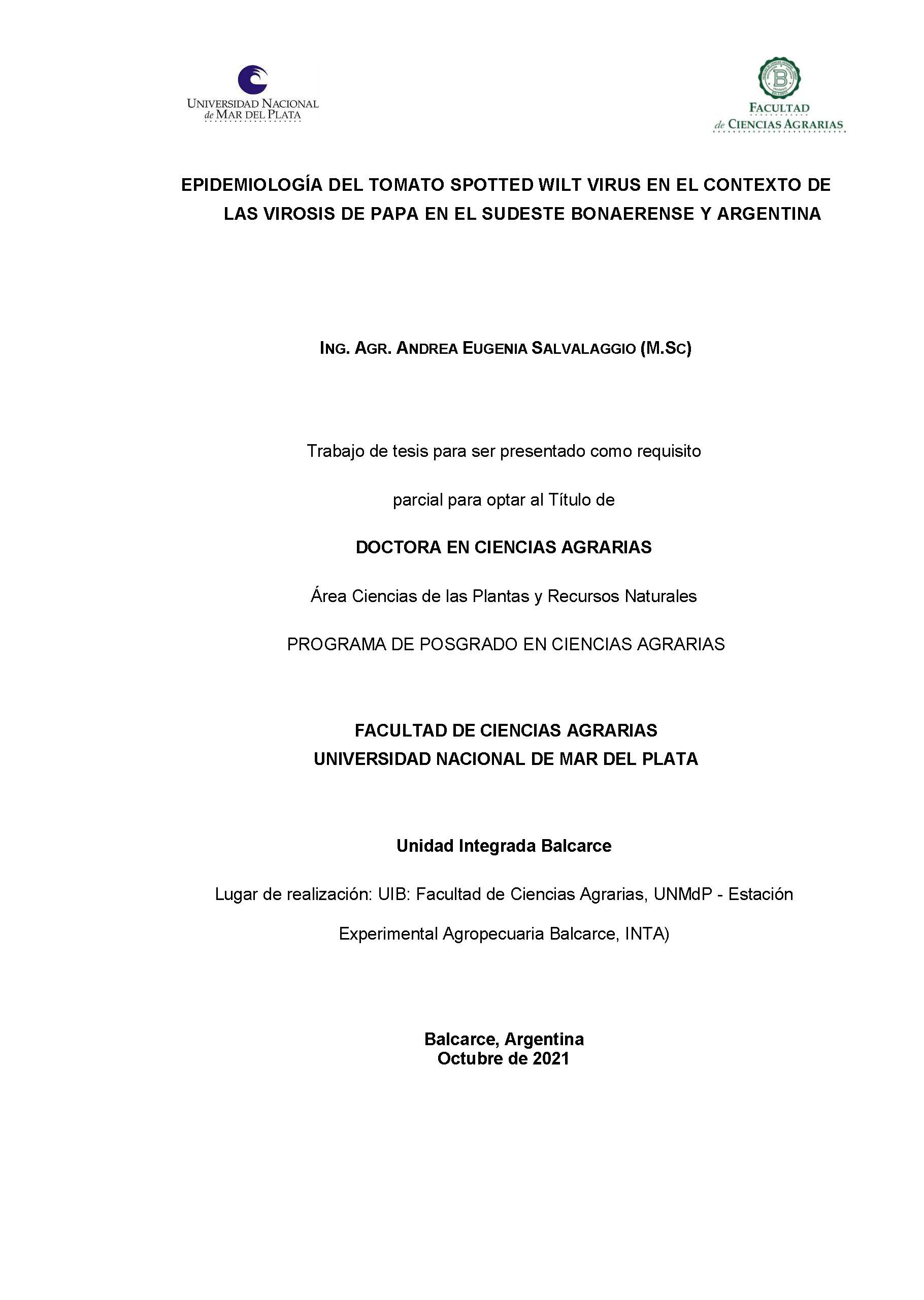 Descripción
Tesis para obtener el grado de Doctor en Ciencias Agrarias, de la Universidad Nacional de Mar del Plata, en octubre de 2021
Editorial
Facultad de Ciencias Agrarias, Universidad Nacional de Mar del Plata
Tipo de documento
tesis doctoral
Palabras Claves
Papa; Potatoes; Epidmiología; Epidemiology; Morbosidad; Morbidity; Distribución Espacial; Spatial Distribution; Frankliniella Occidentalis; Transmisión de Enfermedades; Disease Transmission; Argentina; Tomato Spotted wilt Virus;
Derechos de acceso
Abierto

Excepto donde se diga explicitamente, este item se publica bajo la siguiente descripción: Creative Commons Attribution-NonCommercial-ShareAlike 2.5 Unported (CC BY-NC-SA 2.5)