View Item
xmlui.general.dspace_homeCentros Regionales y EEAsCentro Regional Santa FeEEA ReconquistaPresentaciones a congresosxmlui.ArtifactBrowser.ItemViewer.trail
Control químico del pulgón amarillo Melanaphis sacchari (Hemiptera: Aphididae) en sorgo
Abstract
En 2021, el pulgón de la caña de azúcar, Melanaphis sacchari (Zehntner, 1897), surgió como una plaga severa del sorgo en diferentes provincias y amenaza producción de sorgo en el norte de Argentina. Esta investigación se llevó a cabo durante la temporada de sorgo 2020/21 en el Experimental Agrícola Estación del INTA Reconquista, Santa Fe (Argentina). Se realizaron dos ensayos de campo, ensayo 1 (E1: estadio de 6 hojas) y ensayo 2 (E2: estadio de 11 hojas) [
ver mas...
]
In 2021, the sugarcane aphid, Melanaphis sacchari (Zehntner, 1897), emerged as a severe pest of sorghum in different provinces and threatens sorghum production in the north of Argentina. This research was carried out during 2020/21 sorghum season in the Agricultural Experimental Station of INTA Reconquista, Santa Fe (Argentina). Two field trials were carried out, trial 1 (E1:6-leaf stage) and trial 2 (E2: 11-leaf stage) respectively. Six insecticides [
ver mas...
]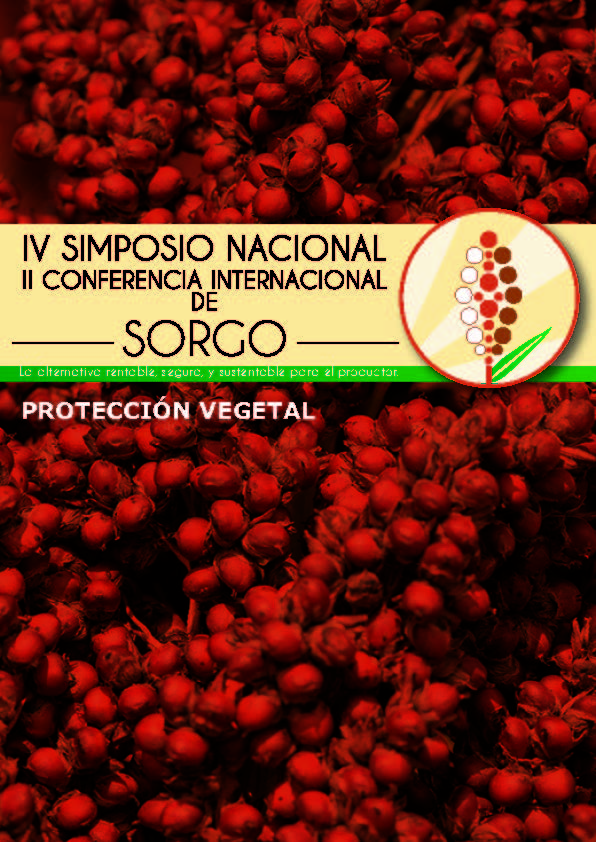 Fuente
V Simposio Nacional y II Conferencia Internacional de Sorgo, 24 y 25 de agosto 2021. Modalidad virtual.
Editorial
Asociación de Ingenieros Agrónomos del Norte de la Provincia de Buenos Aires
Tipo de documento
documento de conferencia
Palabras Claves
Melanaphis; Plagas de Plantas; Plant Pests; Sorghum; Sorgos; Sorghum Grain; Control Químico; Chemical Control; Control de Plagas; Pest Control; Melanaphis sacchari; Pulgón Amarillo;
Derechos de acceso
Abierto

Excepto donde se diga explicitamente, este item se publica bajo la siguiente descripción: Creative Commons Attribution-NonCommercial-ShareAlike 2.5 Unported (CC BY-NC-SA 2.5)
Related items
Showing items related by title, author, creator and subject.
Taiariol, Dario

(

EEA Bella Vista, INTA

,

2022-12-15

)

Una planta no deseada en un lugar no deseado. No siempre invasivas o salvajes. Efectos adversos de malezas. -En plantas jóvenes: Compite y afecta la disponibilidad de nutrientes, luz y agua y, además, alelopatías. - En ...

Bouvet, Juan Pedro

(

Departamento de Producción Vegetal, Universitat Politècnica de València

,

2018-12

)

Dentro de los enemigos naturales de plagas en los agroecosistemas, los depredadores han sido considerados como uno de los grupos de mayor importancia. Sin embargo, su compleja biología y comportamiento ha obstaculizado en ...

Cuello, Eliana Marina

(

Facultad de Ciencias Exactas y Naturales, Universidad de Buenos Aires

,

2019

)

Las plagas de eucaliptos más importantes en la Argentina son Glycaspis brimblecombei, Thaumastocoris peregrinus y Leptocybe invasa, todas ellas de reciente aparición en nuestro país. El abordaje más efectivo al problema ...