View Item
xmlui.general.dspace_homeCentros Regionales y EEAsCentro Regional Santa FeEEA ReconquistaPresentaciones a congresosxmlui.ArtifactBrowser.ItemViewer.trail
Control químico del pulgón amarillo Melanaphis sacchari (Hemiptera: Aphididae) en sorgo
Abstract
En 2021, el pulgón de la caña de azúcar, Melanaphis sacchari (Zehntner, 1897), surgió como una plaga severa del sorgo en diferentes provincias y amenaza producción de sorgo en el norte de Argentina. Esta investigación se llevó a cabo durante la temporada de sorgo 2020/21 en el Experimental Agrícola Estación del INTA Reconquista, Santa Fe (Argentina). Se realizaron dos ensayos de campo, ensayo 1 (E1: estadio de 6 hojas) y ensayo 2 (E2: estadio de 11 hojas) [
ver mas...
]
In 2021, the sugarcane aphid, Melanaphis sacchari (Zehntner, 1897), emerged as a severe pest of sorghum in different provinces and threatens sorghum production in the north of Argentina. This research was carried out during 2020/21 sorghum season in the Agricultural Experimental Station of INTA Reconquista, Santa Fe (Argentina). Two field trials were carried out, trial 1 (E1:6-leaf stage) and trial 2 (E2: 11-leaf stage) respectively. Six insecticides [
ver mas...
]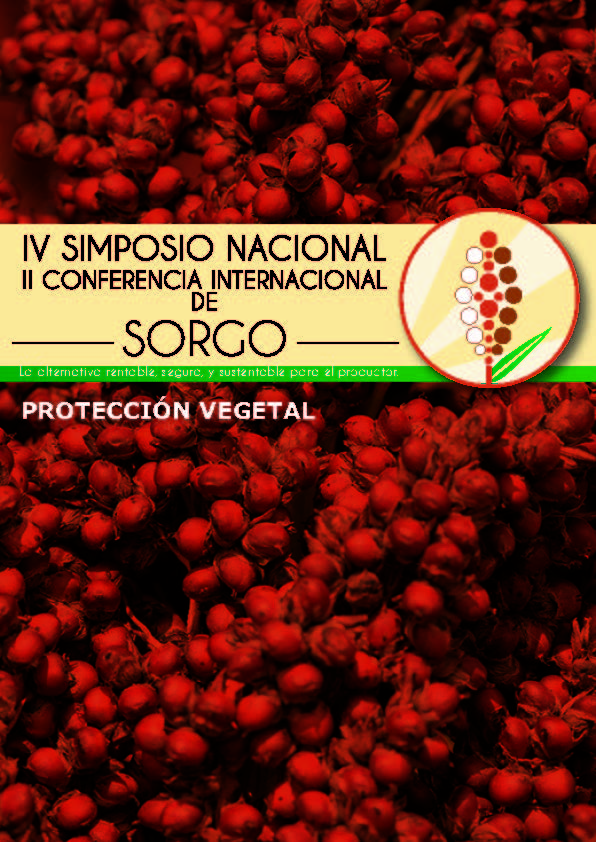 Fuente
V Simposio Nacional y II Conferencia Internacional de Sorgo, 24 y 25 de agosto 2021. Modalidad virtual.
Editorial
Asociación de Ingenieros Agrónomos del Norte de la Provincia de Buenos Aires
Tipo de documento
documento de conferencia
Palabras Claves
Melanaphis; Plagas de Plantas; Plant Pests; Sorghum; Sorgos; Sorghum Grain; Control Químico; Chemical Control; Control de Plagas; Pest Control; Melanaphis sacchari; Pulgón Amarillo;
Derechos de acceso
Abierto

Excepto donde se diga explicitamente, este item se publica bajo la siguiente descripción: Creative Commons Attribution-NonCommercial-ShareAlike 2.5 Unported (CC BY-NC-SA 2.5)
Related items
Showing items related by title, author, creator and subject.
Poveda, Jorge

;

Roeschlin, Roxana Andrea

;

Marano, María Rosa

;

Favaro, María Alejandra

(

Elsevier

,

2021-07

)

Citrus represents one of the most widely grown crops on the planet, extensively cultivated for both the fresh fruit and juice markets. The productivity of citrus orchards can be seriously affected by highly aggressive ...

Cordes, Diego Darío

(

AER Jesús María, INTA

,

2017-07-15

)

La podredumbre gris de la vid, causada por Botrytis Cinerea y la Podredumbre acida, causada por levaduras, bacterias y hongos, representan las principales perdidas de producción en años húmedos, en Colonia Caroya.

Cuello, Eliana Marina

(

Facultad de Ciencias Exactas y Naturales, Universidad de Buenos Aires

,

2019

)

Las plagas de eucaliptos más importantes en la Argentina son Glycaspis brimblecombei, Thaumastocoris peregrinus y Leptocybe invasa, todas ellas de reciente aparición en nuestro país. El abordaje más efectivo al problema ...