View Item
xmlui.general.dspace_homeCentros Regionales y EEAsCentro Regional Entre RíosEEA ConcordiaTesisxmlui.ArtifactBrowser.ItemViewer.trail
Efecto de distintos mulchings sobre la humedad y temperatura del suelo, estado hídrico, incidencia de malezas y crecimiento de un cultivo en implantación de mandarina Nova en Concordia, Entre Ríos
Abstract
La eliminación de la cobertura vegetal en plantaciones citrícolas de Concordia (Entre Ríos) por diferentes prácticas de manejo contribuye a la degradación de las propiedades físicas, químicas y biológicas del suelo. El objetivo de este trabajo fue evaluar el efecto de distintos mulchings sobre la humedad y temperatura del suelo, el estado hídrico del cultivo, la incidencia de malezas y crecimiento de un cultivo de mandarina Nova. La experiencia se realizó [
ver mas...
]
The practice of eliminating the vegetal cover of citrus orchards in Concordia (Entre Ríos) contributes to the degradation of the physical, chemical, and biological properties of the soil. The objective of this study was to evaluate the effects of utilizing different mulches on soil moisture and temperature, water status of the crop, incidence of weeds, and growth of a Nova mandarin orchard. This experiment was conducted in campaigns 2012/2013 and [
ver mas...
]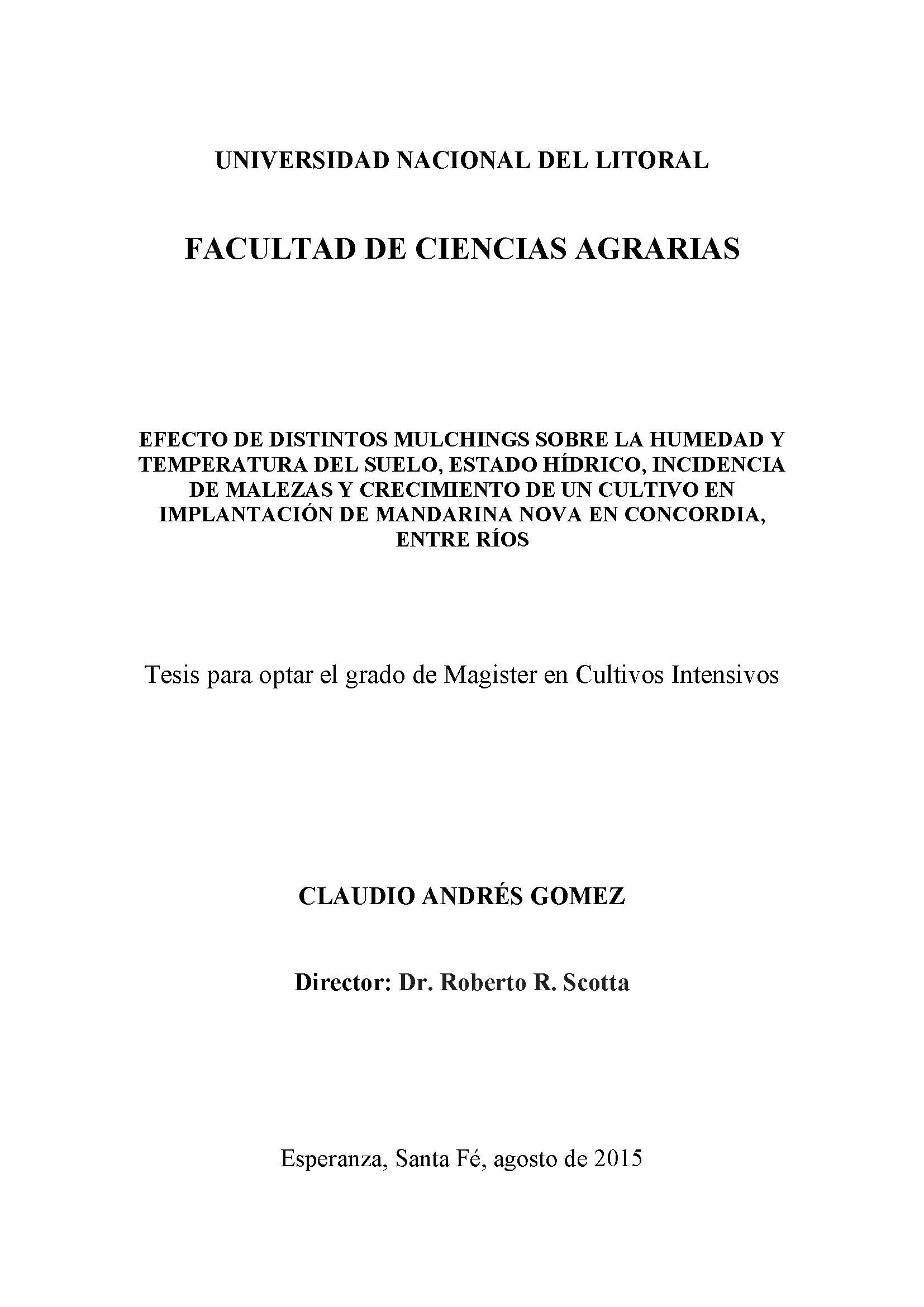 Descripción
Tesis para optar por el grado académico de Magister Scientiae en Cultivos Intensivos, de la Universidad Nacional del Litoral, en 2015
Editorial
Facultad de Ciencias Agrarias, Universidad Nacional del Litoral
Tipo de documento
tesis de maestría
Derechos de acceso
Abierto

Excepto donde se diga explicitamente, este item se publica bajo la siguiente descripción: Creative Commons Attribution-NonCommercial-ShareAlike 2.5 Unported (CC BY-NC-SA 2.5)
Related items
Showing items related by title, author, creator and subject.
Morras, Hector

;

Moretti, Lucas Martin

;

Piccolo, Gabriel Agustin

;

Zech, Wolfgang H.

(

Elsevier

,

2009-03

)

Deep red soils, combining characteristics of highly weathered materials together with a significant degree of clay illuviation and with stony horizons close to the saprolite, are found in the Province of Misiones, northeastern ...

Milesi Delaye, Luis Antonio

;

Irizar, Alicia Beatriz

;

Andriulo, Adrian Enrique

;

Mary, Bruno

(

2013

)

Long-term soil organic carbon (SOC) and soil organic nitrogen (SON) following cultivation of grassland soils (100/120-year tillage (T) + 20/30-year no tillage (NT)) of the Rolling Pampa were studied calibrating the simple ...

Von Wallis, Alejandra

(

Facultad de Agronomía, Universidad de Buenos Aires

,

2013-08

)

Las propiedades físicas de los suelos de ambientes subtropicales húmedos fueron tradicionalmente menos estudiadas que los de zonas templadas. Una característica de los primeros es su menor resiliencia frente a un disturbio. ...