View Item
xmlui.general.dspace_homeCentros Regionales y EEAsCentro Regional CórdobaEEA ManfrediPartes de librosxmlui.ArtifactBrowser.ItemViewer.trail
Resilience Management at the Landscape Level: An Approach to Tackling Social Ecological Vulnerability of Agroforestry Systems.
Abstract
It has been estimated that more than half of the earth's natural ecosystems have been modified by anthropogenic activities for the provision of ecosystem goods (Millennium Ecosystem Assessment 2005). Both human well-being and natural ecosystems are directly affected by social activities and/or conditions, as well as by stochastic climatic events (Butler and Oluoch-Kosura 2006; Fremier et al. 2013). Agroforestry landscapes can provide a great variety of [
ver mas...
]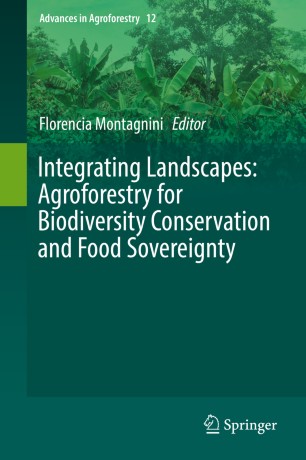 Fuente
Integrating Landscapes: Agroforestry for Biodiversity Conservation and Food Sovereignty (F. Montagnini Ed.), Advances in Agroforestry. Springer International Publishing. Chapter 5, p. 127-148.
ISBN
978-3-319-69370-5 (print)
978-3-319-69371-2 (on line)
Tipo de documento
parte de libro
Palabras Claves
Ecosystem Services; Servicios de los Ecosistemas; Impact Assessment; Evaluación de Impacto; Agroforestry Systems; Sistemas Agroforestales; Primary Forest; Bosque Primario; Sustainable Development; Desarrollo Sustentable; Decision Making; Toma de Decisiones; Sustainable Land Use; Uso Sostenible de la Tierra; Governance; Gobernancia; Resilience; Resiliencia; Vulnerability; Vulnerabilidad; Socio- Ecological Systems; Sistemas Socio Ecológicos; Bosque Nativo;
Derechos de acceso
Restringido

Excepto donde se diga explicitamente, este item se publica bajo la siguiente descripción: Creative Commons Attribution-NonCommercial-ShareAlike 2.5 Unported (CC BY-NC-SA 2.5)