View Item
xmlui.general.dspace_homeCentros Regionales y EEAsCentro Regional Buenos Aires SurEEA BalcarceArtículos científicosxmlui.ArtifactBrowser.ItemViewer.trail
The role of social capital and collective actions in natural capital conservation and management
Abstract
The relationships among social capital (SC) and collective actions (CA) for nature conservation and management were analyzed across five case studies characterised by specific land-use dynamics in the South American continent. Data on SC and CA were obtained through a semi-structured questionnaire to groups of selected social actors. Multivariate statistical analysis was used to identify SC components and to evaluate SC across actors and cases. The [
ver mas...
]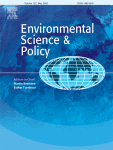 Author
Auer, Alejandra Denise;
Von Below, Jonathan; Nahuelhual, Laura; Mastrángelo, Matias;
Gonzalez, Aira Edith;
Gluch, Mariana; Vallejos, María; Staiano, Luciana;
Laterra, Pedro;
Paruelo, José;
Fuente
Environmental Science & Policy 107 : 168-178 (2020)
Tipo de documento
artículo
Palabras Claves
Redes Sociales; Social Nerworks; Servicio de los Ecosistemas; Ecosystem Services; Análisis; Analysis; Capital Social; Social Capital; Gobernancia; Governance; Conservación de la Naturaleza; Nature Conservation;
Derechos de acceso
Restringido

Excepto donde se diga explicitamente, este item se publica bajo la siguiente descripción: Creative Commons Attribution-NonCommercial-ShareAlike 2.5 Unported (CC BY-NC-SA 2.5)
Related items
Showing items related by title, author, creator and subject.
Reyes, Maria Victoria

(

2018-11

)

Los objetivos de este trabajo son: i) Abordar la Agroecología como movimiento social contemporáneo; ii) Caracterizar y reseñar la evolución del Movimiento Agroecológico Latinoamericano (MAELA; iii) Brindar algunas apreciaciones ...

Martinez Pastur, Guillermo José

;

Peri, Pablo Luis

;

Lencinas, María Vanessa

;

García Llorente, Marina

(

Springer

,

2016-02

)

Context Although there is a need to develop a spatially explicit methodological approach that addresses the social importance of cultural ecosystem services for regional planning, few studies have analysed the spatial ...

Centeno, Matías Ezequiel

(

Ediciones INTA

,

2011

)

Ya nadie tiene que enfrentar solo a la globalización. Y en esta idea se enmarca la propuesta del presente libro: la búsqueda de alternativas de crecimiento y desarrollo local, con base en el potencial endógeno territorial, ...