View Item
xmlui.general.dspace_homeCentros e Institutos de InvestigaciónCICVyA. Centro de Investigación en Ciencias Veterinarias y AgronómicasInstituto de GenéticaArtículos científicosxmlui.ArtifactBrowser.ItemViewer.trail
Precocious sexual signalling and mating in Anastrepha fraterculus (Diptera: Tephritidae) sterile males achieved through juvenile hormone treatment and protein supplements
Abstract
Sexual maturation of Anastrepha fraterculus is a long process. Methoprene (a mimic of juvenile hormone) considerably reduces the time for sexual maturation in males. However, in other Anastrepha species, this effect depends on protein intake at the adult stage. Here, we evaluated the mating competitiveness of sterile laboratory males and females that were treated with methoprene (either the pupal or adult stage) and were kept under different regimes of [
ver mas...
]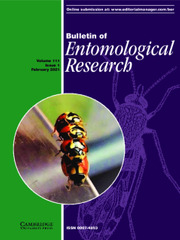 Author
Liendo, Marí­a Clara; Devescovi, Francisco; Bachmann, Guillermo Enrique; Utges, María E.; Abraham, Solana; Vera, María Teresa;
Lanzavecchia, Silvia Beatriz;
Bouvet, Juan Pedro;
Gomez Cendra, Paula V.; Hendrichs, Jorge; Teal, Peter E. A.;
Cladera, Jorge Luis;
Segura, Diego Fernando;
Fuente
Bulletin of Entomological Research 103 (1) : 1-13 (Febrero 2013)
Editorial
Cambridge University Press
Tipo de documento
artículo
Palabras Claves
Sexual Maturity; Madurez Sexual; Sexual Behaviour; Comportamiento Sexual; Juvenile Hormones; Hormonas Juveniles; Methoprene; Metopreno; Nutrition; Nutrición; Anastrepha fraterculus; Tephritidae; Sterile Insect Technique; Técnica del Insecto Estéril;
Derechos de acceso
Restringido

Excepto donde se diga explicitamente, este item se publica bajo la siguiente descripción: Creative Commons Attribution-NonCommercial-ShareAlike 2.5 Unported (CC BY-NC-SA 2.5)
Related items
Showing items related by title, author, creator and subject.
Bruno Galarraga, María Macarena

;

Cano Moreno, Virginia

;

Lago Cruz, Beatriz

;

Encinas, Teresa

;

Gonzalez Bulnes, Antonio

;

Martinez Ros, Paula

(

MDPI

,

2021-04

)

Currently, there is an intense effort to find an alternative hormone to eCG to induce ovulation after estrus synchronization treatments in sheep. One of the proposed alternatives is based on the use of hCG, but the results ...

Segura, Diego Fernando

;

Belliard, Silvina Ahnahi

;

Vera, María Teresa

;

Bachmann, Guillermo Enrique

;

Ruiz, María Josefina

;

Jofre-Barud, Flavia

;

Fernandez, Patricia Carina

;

Lopez, M. Liza

;

Shelly, Todd E.

(

Oxford University Press

,

2018-09

)

Plant compounds affect insects in many different ways. In addition to being a food source, plants also contain secondary metabolites that may have positive and negative impacts on insects. The influence of these compounds ...

Devescovi, Francisco

;

Hurtado, Juan

;

Taylor, Phillip W.

(

Elsevier

,

2021-03

)

In order to reproduce, female tephritid fruit flies need both mates for fertilization and fruit for oviposition. Virgin females are prone to mating and approach males, attracted by their pheromones. Mated females, however, ...