View Item
xmlui.general.dspace_homeDirección Nacional y DNAsSistemas de Información, Comunicación y CalidadGerencia de Comunicación e Imagen InstitucionalArtículos científicosxmlui.ArtifactBrowser.ItemViewer.trail
¿Cómo ha cambiado la precipitación en la provincia de Santa Fe?
Abstract
La provincia de Santa Fe concentra un gran porcentaje de la producción agroindustrial de Argentina. En los últimos años, los eventos extremos relacionados con excesos y déficits de precipitación han provocado anegamientos prolongados y severas sequías impactando gravemente la estructura agroindustrial en la provincia. Estos eventos pueden estar influenciados por cambios en la precipitación que se produjeron a partir de mediados del siglo xx. Este trabajo [
ver mas...
]
The province of Santa Fe concentrates a large percentage of Argentina's agroindustrial production. In recent years, extreme events related to precipitation excesses and deficits have caused extended waterlogging and large droughts, severely affecting the agroindustry in the province. These extreme events may be influenced by changes in precipitation that occurred since mid-twentieth century. This study investigates the variability and changes in [
ver mas...
]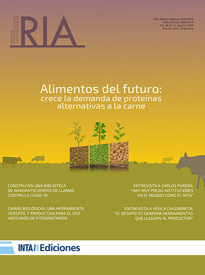 Author
Lovino, Miguel Angel; Müller, Gabriela Viviana; Sgroi, Leandro Carlos;
Fuente
RIA 46 (2) : 226-239 (Agosto 2020)
Tipo de documento
artículo
Derechos de acceso
Abierto

Excepto donde se diga explicitamente, este item se publica bajo la siguiente descripción: Creative Commons Attribution-NonCommercial-ShareAlike 2.5 Unported (CC BY-NC-SA 2.5)