View Item
xmlui.general.dspace_homeCentros Regionales y EEAsCentro Regional Buenos Aires SurEEA BalcarcePresentaciones a Congresosxmlui.ArtifactBrowser.ItemViewer.trail
Evaluación del flujo de savia en árboles de Pinus taeda en el nordeste argentino.
Abstract
El objetivo de este estudio fue analizar el flujo de savia en árboles de Pinus taeda en una plantación ubicada en la localidad de Gobernador Virasoso, provincia de Corrientes, en las coordenadas geográficas de 27°59'45" S y 55°57'16" W. En 2015 cuando se inició el estudio, la parcela de medición se encontraba 8 años de edad y una densidad de 790 árboles ha-1, siendo realizado un raleo a los 9 años de edad dejando una densidad de 420 árboles [
ver mas...
]
The aim of this study was to analyze the transpiration of Pinus taeda trees by means of sap flow measurements. For determination of transpiration, the sap flow was evaluated during a period of 31 months using Granier method of heat balance, in total 32 probes was installed in trees stems of different diameters. The average of transpiration by tree was about 28 L day-1, the sap flow rate was very responsive to the season of the year and trees [
ver mas...
]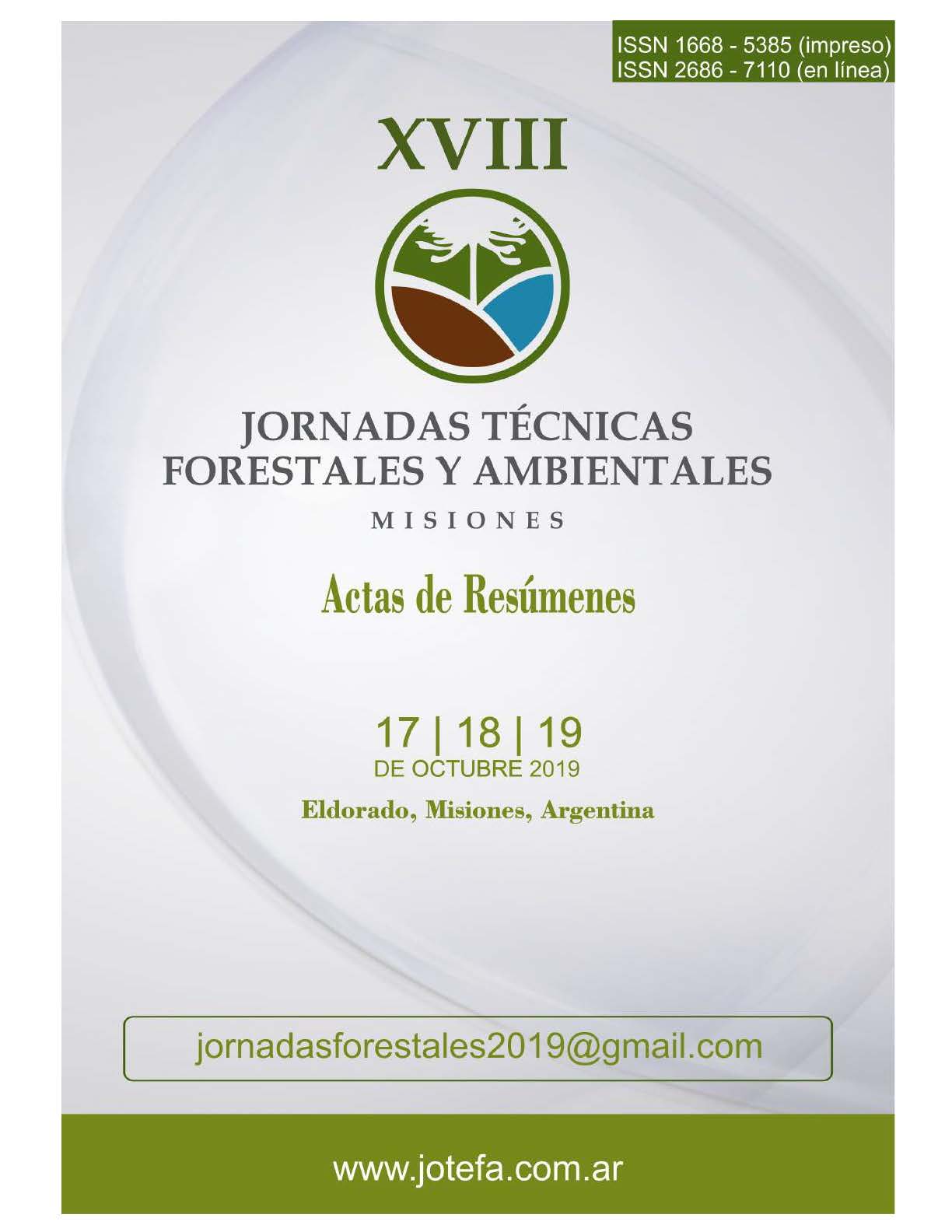 Author
Coldato, Silvana Lucía; Pezzutti, Raúl Vicente; Schenone, Raúl;
Gyenge, Javier;
Fuente
XVIII Jornadas Técnicas Forestales y Ambientales. Facultad de Ciencias Forestales. El Dorado, Misiones. 17 al 19 de Octubre de 2019.
Editorial
Facultad de Ciencias Forestales. Universidad Nacional de Misiones; Argentina. Instituto Nacional de Tecnología Agropecuaria; Argentina. Ministerio de Agroindustria; Argentina
Tipo de documento
documento de conferencia
Palabras Claves
Transpiración; Transpiration; Savia; Sap; Pinus Taeda; Plantación Forestal; Forest Plantations;
Derechos de acceso
Abierto

Excepto donde se diga explicitamente, este item se publica bajo la siguiente descripción: Creative Commons Attribution-NonCommercial-ShareAlike 2.5 Unported (CC BY-NC-SA 2.5)