View Item
xmlui.general.dspace_homeCentros Regionales y EEAsCentro Regional Buenos Aires SurEEA BalcarceArtículos científicosxmlui.ArtifactBrowser.ItemViewer.trail
Formulaciones con combinación de ingredientes activos para el control de Armadillidium vulgare (Crustacea: Isopoda), plaga en el cultivo de colza
Abstract
La colza (Brassica napus, B. campestris) en siembra directa (SD) representa una alternativa en los sistemas de rotación actuales. Armadillidium vulgare es una de las plagas principales de los cultivos en SD. El objetivo de este trabajo fue evaluar cebos de acción combinada como estrategia alternativa de control de dicha especie. Se realizaron ensayos de laboratorio y de campo con los siguientes tratamientos: testigo sin tratamiento químico; testigo [
ver mas...
]
Oilseed rape (Brassica napus, B. campestris) under No-Tillage (NT) represents an alternative in the current crop rotation systems. Armadillidium vulgare is a principal pest in crops under NT. The aim of this study was to evaluate combined action baits as alternative strategy in the control of that species. Laboratory and fields traits were carried out with five treatments: control treatment without chemicals, positive control (4 kg/ha of Carbaryl 8%, [
ver mas...
]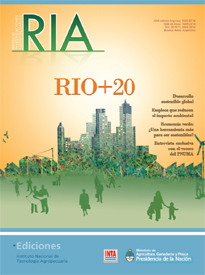 Fuente
RIA 38 (1) : 91-96 (abril 2012)
Editorial
Gerencia de Comunicación e Imagen Institucional, DNA SICC, INTA
Tipo de documento
artículo
Derechos de acceso
Abierto

Excepto donde se diga explicitamente, este item se publica bajo la siguiente descripción: Creative Commons Attribution-NonCommercial-ShareAlike 2.5 Unported (CC BY-NC-SA 2.5)
Related items
Showing items related by title, author, creator and subject.
Cuello, Eliana Marina

(

Facultad de Ciencias Exactas y Naturales, Universidad de Buenos Aires

,

2019

)

Las plagas de eucaliptos más importantes en la Argentina son Glycaspis brimblecombei, Thaumastocoris peregrinus y Leptocybe invasa, todas ellas de reciente aparición en nuestro país. El abordaje más efectivo al problema ...

Bouvet, Juan Pedro

(

Departamento de Producción Vegetal, Universitat Politècnica de València

,

2018-12

)

Dentro de los enemigos naturales de plagas en los agroecosistemas, los depredadores han sido considerados como uno de los grupos de mayor importancia. Sin embargo, su compleja biología y comportamiento ha obstaculizado en ...

Poveda, Jorge

;

Roeschlin, Roxana Andrea

;

Marano, María Rosa

;

Favaro, María Alejandra

(

Elsevier

,

2021-07

)

Citrus represents one of the most widely grown crops on the planet, extensively cultivated for both the fresh fruit and juice markets. The productivity of citrus orchards can be seriously affected by highly aggressive ...