View Item
xmlui.general.dspace_homeCentros Regionales y EEAsCentro Regional CórdobaEEA Marcos JuárezArtículos científicosxmlui.ArtifactBrowser.ItemViewer.trail
Polioencefalomalacia asociada a exceso de azufre dietético en bovinos de engorde a corral
Abstract
Polioencefalomacia (PEM) es un término patológico que se refiere a la necrosis cerebro-cortical. En bovinos las causas más frecuentes son déficit de fibra (acidosis ruminal), déficit de tiamina y exceso de azufre (S) dietéticos. El objetivo de este trabajo es reportar un brote de PEM en bovinos de engorde a corral consumiendo exceso de S. El establecimiento afectado habitualmente suministraba una dieta de terminación compuesta por 45% de burlanda de maíz, [
ver mas...
]
Polioencephalomacia (PEM) refers to cerebrocortical necrosis. In bovine the most frequent causes of PEM aredietary fiber deficit, thiamine deficiency and excess of sulfur (S). The objective of this work is to report an outbreak of PEM in feedlot cattle consuming S excess. The affected farm provided a finishing diet composed of 45% corn destillers grains with solubles, but 25 days before of the problem the inclusion of this [
ver mas...
]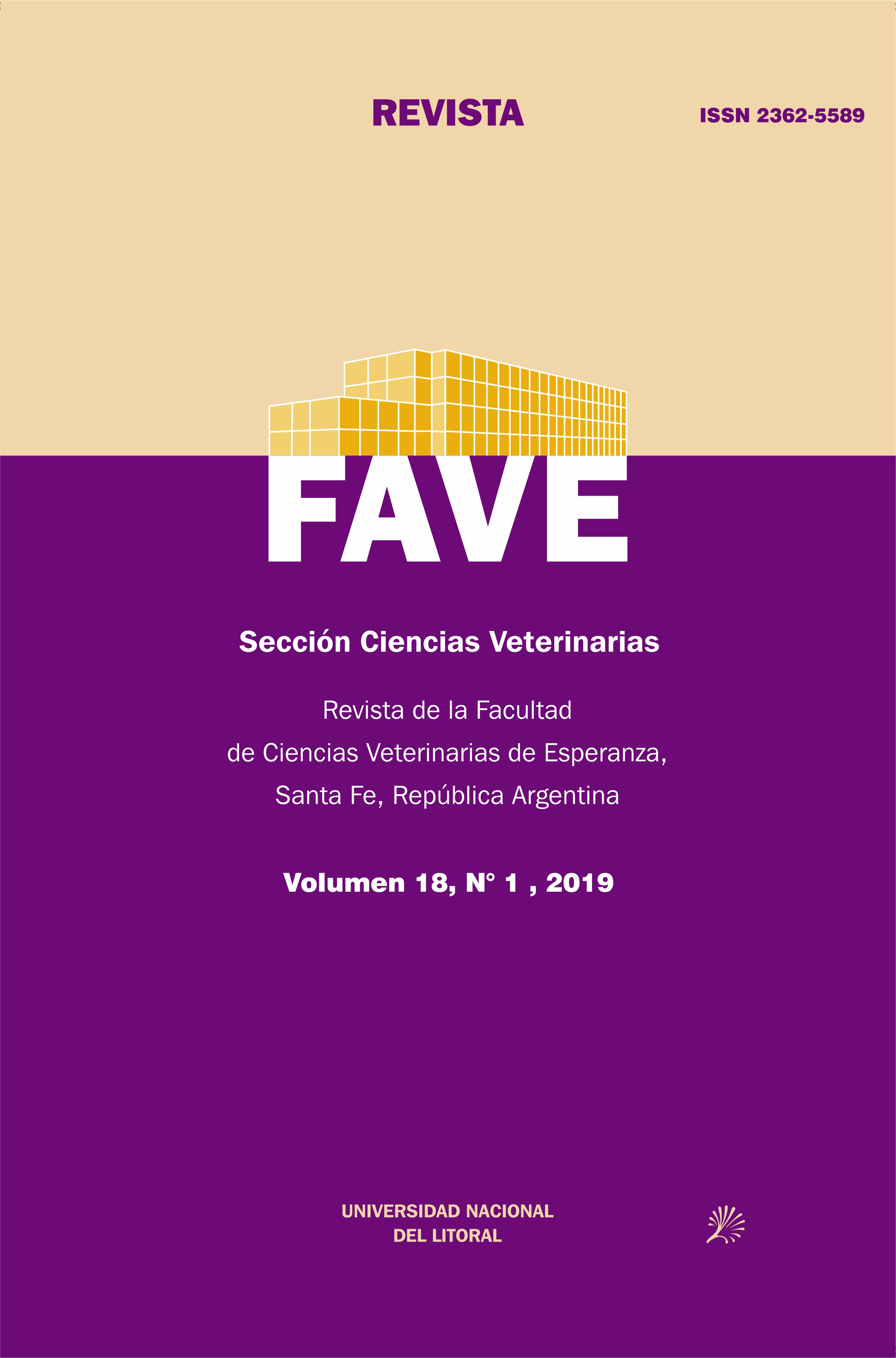 Fuente
FAVE. Sección Ciencias Veterinarias 18 (2) : 45-48. (2019)
Editorial
Universidad Nacional del Litoral, Facultad de Ciencias Agrarias, Esperanza, Santa Fé, Argentina.
ISSN
1666-938X
2362-5589 (Online)
Tipo de documento
artículo
Palabras Claves
Bovina; Bovinae; Polioencefalomalacia; Polioenphalomalacia; Azufre; Sulphur; Alimentación de los Animales; Animal Feeding; Engorde; Fattening; Bovinos; Necrosis Cerebro-Cortical;
Derechos de acceso
Abierto

Excepto donde se diga explicitamente, este item se publica bajo la siguiente descripción: Creative Commons Attribution-NonCommercial-ShareAlike 2.5 Unported (CC BY-NC-SA 2.5)