View Item
xmlui.general.dspace_homeCentros e Institutos de InvestigaciónCICVyA. Centro de Investigación en Ciencias Veterinarias y AgronómicasInstituto de Microbiología y Zoología AgrícolaArtículos científicosxmlui.ArtifactBrowser.ItemViewer.trail
Co-composting of poultry manure with other agricultural wastes: process performance and compost horticultural use
Abstract
The aim of this work was to evaluate the composting process of poultry manure mixed with other complementary organic wastes. Two mixtures (treatment 1 and 2) were prepared with corn bare cobs, sawdust, shavings and manure. Temperature, pH, electrical conductivity, organic matter loss, total organic carbon, solved organic carbon, N loss, ammonium and nitrate concentration, laccase activity and respiration indices were analyzed. These variables showed [
ver mas...
]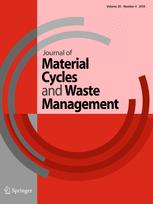 Fuente
Journal of Material Cycles and Waste Management 17 (1) : 42–50 (January 2015)
Tipo de documento
artículo
Palabras Claves
Desechos Agrícolas; Agricultural Wastes; Estiércol; Farmyard Manure; Aves de Corral; Poultry; Compost; Composts; Elaboración del Compost; Composting; Manejo de Desechos Agrícolas; Agricultural Waste Management;
Derechos de acceso
Restringido

Excepto donde se diga explicitamente, este item se publica bajo la siguiente descripción: Creative Commons Attribution-NonCommercial-ShareAlike 2.5 Unported (CC BY-NC-SA 2.5)
Related items
Showing items related by title, author, creator and subject.
Gordillo, F.

;

Peralta, E.

;

Chávez, E.

;

Contreras, V.

;

Campuzano, A.

;

Ruiz, O.

(

Gerencia de Comunicación e Imagen Institucional, DNA SICC, INTA

,

2011-08

)

El presente estudio tuvo como finalidad el aprovechamiento de los residuos azucareros de forma técnicamente viable por medio de la producción y evaluación del proceso de compostaje. Para lograr los objetivos se establecieron ...

Rizzo, Pedro Federico

;

Young, Brian Jonathan

;

Pin Viso, Natalia Daniela

;

Carbajal, Jazmin

;

Martínez, Laura Elizabeth

;

Riera, Nicolas Iván

;

Bres, Patricia Alina

;

Beily, María Eugenia

;

Barbaro, Lorena Alejandra

;

Farber, Marisa Diana

;

Zubillaga, Marta Susana

;

Crespo, Diana Elvira

(

Elsevier

,

2022-02-15

)

The egg industry has increased its production worldwide during the last decades. Several waste management strategies have been proposed to treat large volumes of poultry manure. Composting and anaerobic digestion are the ...

Astorga, Micaela

;

Simón, Agustina

;

Victoria, Jose Carlos

;

Baglio, Carla

;

Piovano, Maria Violeta

(

INTA

,

2021

)

Esta guía brinda indicaciones y consejos para las distintas etapas de realización del compost y lombricompuesto, su procesamiento y los beneficios que otorgan al suelo y a las plantas.