Ver ítem
xmlui.general.dspace_homeCentros Regionales y EEAsCentro Regional Buenos Aires SurEEA BalcarceArtículos científicosxmlui.ArtifactBrowser.ItemViewer.trail
Caso inusual de calcinosis enzoótica por el consumo de Solanum glaucophyllum en un encierre a corral.
Resumen
En Argentina, la calcinosis enzoótica es una enfermedad frecuente en la cría extensiva de ganado. Esta intoxicación es poco frecuente en sistemas intensivos. Este artículo describe la aparición de un brote de calcinosis enzoótica en bovinos en encierre a corral. Se efectuó la revisión clínica de los animales, y la necropsia de uno de los enfermos. Se obtuvieron muestras de tejidos para histopatología y de sangre entera para hematocrito. Los animales [
ver mas...
]
Enzootic calcinosis is a very common disease in extensive breeding herds in Argentina. However, it is unusual in intensive systems. This article describes an outbreak of enzootic calcinosis in herds from a feed-lot. Clinical examination was performed in herds and one of the affected animals was necropsied. Tissue and whole blood samples were obtained for histopathology and hematocrit respectively. The sick animals manifested symptoms such as a fall in [
ver mas...
]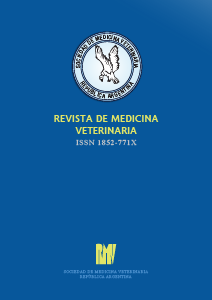 Fuente
Revista de Medicina Veterinaria (Buenos Aires) 93 (3/4) : 59-62 (2012)
ISSN
0325-6391 (Print)
1852-771X (Online)
Tipo de documento
artículo
Palabras Claves
Calcinosis; Calcificación Patológica; Plantas Tóxicas; Poisonous Plants; Feedlot; Solanum Glaucophyllum; Encierre a Corral;
Derechos de acceso
Abierto

Excepto donde se diga explicitamente, este item se publica bajo la siguiente descripción: Creative Commons Attribution-NonCommercial-ShareAlike 2.5 Unported (CC BY-NC-SA 2.5)