View Item
xmlui.general.dspace_homeCentros Regionales y EEAsCentro Regional Tucumán - Santiago del EsteroEEA FamailláArtículos científicosxmlui.ArtifactBrowser.ItemViewer.trail
Potential Bacterial Antagonists for the Control of Charcoal Rot (Macrophomina phaseolina) in Strawberry
Abstract
The effect of antagonistic bacteria to control Macrophomina phaseolina was evaluated under in vitro, growth chamber, greenhouse and field conditions. A total of 177 bacteria, isolated from Athrocaulon macrostachyum rhizosphere of the Lebrija marsh, were screened for their potential against M. phaseolina (causes charcoal rot in strawberry) by dual culture assay. Of these isolates, 14 most promising strains were molecularly identified by the 16S rDNA [
ver mas...
]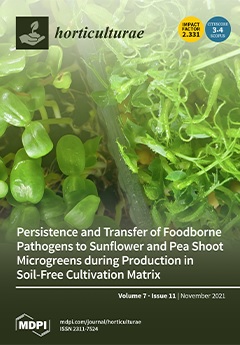 Fuente
Horticulturae 7 (11) : 457. (November 2021)
Tipo de documento
artículo
Palabras Claves
Fresa; Strawberries; Enfermedades de las Plantas; Plant Diseases; Control de Enfermedades de Plantas; Plant Disease Control; Macrophomina phaseolina; Control Biológico; Biological Control; Bacterias Antagonistas; Antagonistic Bacteria; Frutilla; Charcoal Rot Disease;
Derechos de acceso
Abierto

Excepto donde se diga explicitamente, este item se publica bajo la siguiente descripción: Creative Commons Attribution-NonCommercial-ShareAlike 2.5 Unported (CC BY-NC-SA 2.5)
Related items
Showing items related by title, author, creator and subject.
Poveda, Jorge

;

Roeschlin, Roxana Andrea

;

Marano, María Rosa

;

Favaro, María Alejandra

(

Elsevier

,

2021-07

)

Citrus represents one of the most widely grown crops on the planet, extensively cultivated for both the fresh fruit and juice markets. The productivity of citrus orchards can be seriously affected by highly aggressive ...

Cordes, Diego Darío

(

AER Jesús María, INTA

,

2017-07-15

)

La podredumbre gris de la vid, causada por Botrytis Cinerea y la Podredumbre acida, causada por levaduras, bacterias y hongos, representan las principales perdidas de producción en años húmedos, en Colonia Caroya.

Bouvet, Juan Pedro

(

Departamento de Producción Vegetal, Universitat Politècnica de València

,

2018-12

)

Dentro de los enemigos naturales de plagas en los agroecosistemas, los depredadores han sido considerados como uno de los grupos de mayor importancia. Sin embargo, su compleja biología y comportamiento ha obstaculizado en ...