View Item
xmlui.general.dspace_homeCentros Regionales y EEAsCentro Regional Buenos Aires NorteEEA General VillegasTesisxmlui.ArtifactBrowser.ItemViewer.trail
Manejo de la defoliación en pasturas de alfalfa para sistemas de invernada en el noroeste bonaerense
Abstract
Este estudio determinó el impacto generado en la producción primaria y secundaria de una pastura de alfalfa a través de cambios en el sistema de pastoreo. Se comparó un sistema (T-500) utilizando la recomendación tradicional de comenzar el pastoreo en primavera cerca del 10% de floración, utilizando una frecuencia de pastoreo de ~500 grados días acumulados (GDA; temperatura base de crecimiento de 5 ºC) para todo el período experimental (mediados de [
ver mas...
]
This study will end the impact generated in the primary and secondary production of an alfalfa pasture through changes in the grazing system. A system (T-500) was compared using the traditional recommendation to start grazing in spring around 10% of flowering, using a grazing frequency of ~500 cumulative degree days (GDA; base growth temperature 5 ºC) for the entire experimental period (mid-spring to mid-autumn) with a system (T-350) that started grazing [
ver mas...
]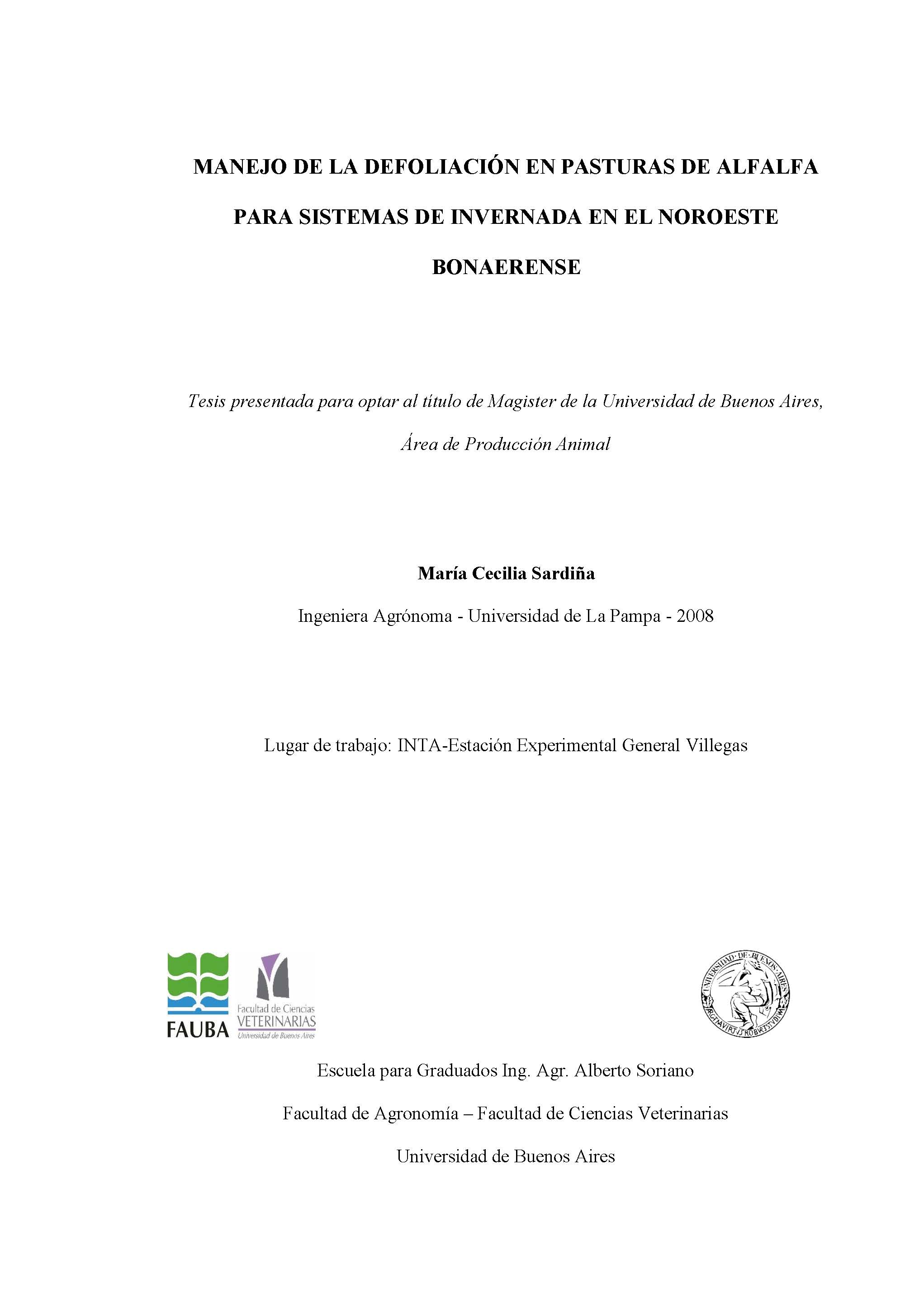 Descripción
Tesis para obtener el grado de Magister Scientiae en Producción Animal, de la Universidad de Buenos Aires, en febrero de 2022
Editorial
Facultad de Agronomía-Facultad de Ciencias Veterinarias, Universidad de Buenos Aires
Tipo de documento
tesis de maestría
Proyectos (ver más)
INTA/PNPA-1126072/AR./Desarrollo de cultivares superiores de especies forrajeras para sistemas ganaderos y agricolo-ganaderos de la Argentina.
INTA/PNPA-1126073/AR./Pasturas ecoeficientes y de bajo carbono en ganadería.
Palabras Claves
Forrajes; Forage; Medicago Sativa; Pastoreo; Grazing; Sistemas de Pastoreo; Grazing Systems; Carga Ganadera; Stocking Density; Biomasa; Biomass; Producción de Biomasa; Biomass Production; Producción de Carne; Meat Production; Valor Nutritivo; Nutritive Value; Pasturas; Alfalfa; Lucerne; Buenos Aires, Argentina;
Derechos de acceso
Abierto

Excepto donde se diga explicitamente, este item se publica bajo la siguiente descripción: Creative Commons Attribution-NonCommercial-ShareAlike 2.5 Unported (CC BY-NC-SA 2.5)