View Item
xmlui.general.dspace_homeCentros Regionales y EEAsCentro Regional Buenos Aires SurEEA BalcarceArtículos científicosxmlui.ArtifactBrowser.ItemViewer.trail
Situación de las virosis del cultivo de papa en el Sudeste Bonaerense
Abstract
En el sudeste de la provincia de Buenos Aires se encuentra la principal región productora de papa de la Argentina. La papa que se produce tiene tres destinos: el mercado fresco, la industria y la producción de semilla, la cual se realiza en un área diferenciada. El cultivo de papa se establece a través de la propagación vegetativa y, como consecuencia, los tubérculos infectados se convierten en una vía de transmisión de virus. El objetivo fue determinar [
ver mas...
]
The main potato producing area of Argentina is located in the southeast of Buenos Aires province. Potato is cropped for three purposes: fresh market, and industry and seed production; the latter is performed in a differentiated area. Potato crop is established through vegetative propagation; consequently, infected tubers become a route of virus transmission. The objective of this work was to determine the incidence of Potato virus Y (PVY), Potato leaf [
ver mas...
]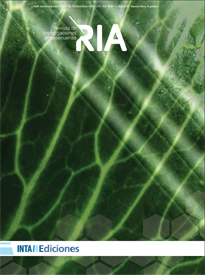 Fuente
RIA 48 (1) : 53-63 (Abril 2022)
Tipo de documento
artículo
Proyectos (ver más)
INTA/2019-PD-E4-I081-001/2019-PD-E4-I081-001/AR./Generación de reactivos, desarrollo de metodologías, validación y acreditación de ensayos para el diagnóstico de patógenos vegetales.
Palabras Claves
Papa; Potatoes; Virus de las Plantas; Plant Viruses; Solanum tuberosum; Virus Indexing; Identificación; Identification; Buenos Aires, Argentina;
Derechos de acceso
Abierto

Excepto donde se diga explicitamente, este item se publica bajo la siguiente descripción: Creative Commons Attribution-NonCommercial-ShareAlike 2.5 Unported (CC BY-NC-SA 2.5)