View Item
xmlui.general.dspace_homeCentros Regionales y EEAsCentro Regional Patagonia SurEEA Santa CruzArtículos científicosxmlui.ArtifactBrowser.ItemViewer.trail
Dominant native and non‐native graminoids differ in key leaf traits irrespective of nutrient availability
Abstract
Nutrient enrichment is associated with plant invasions and biodiversity loss. Functional trait advantages may predict the ascendancy of invasive plants following nutrient enrichment but this is rarely tested. Here, we investigate (a) whether dominant native and non‐native plants differ in important morphological and physiological leaf traits, (b) how their traits respond to nutrient addition, and (c) whether responses are consistent across functional [
ver mas...
]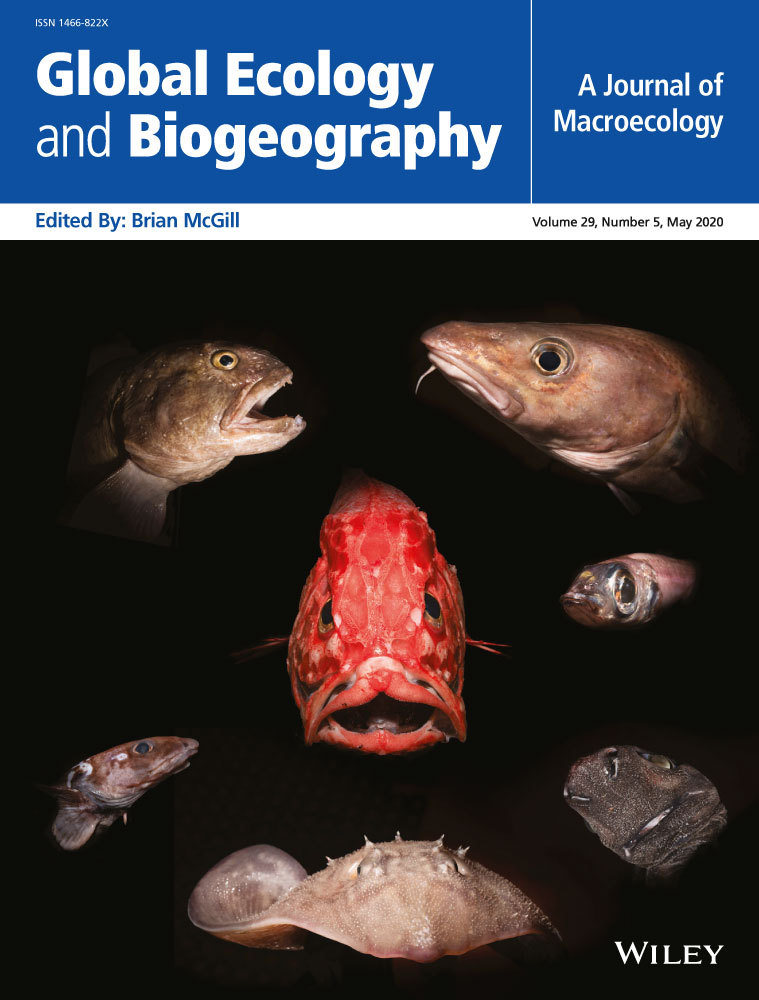 Author
Broadbent, Arthur A.D.; Firn, Jennifer L.; McGree, James M.; Borer, Elizabeth T.; Buckley, Yvonne M.; Harpole, William Stanley; Komatsu, Kimberly J.; MacDougall, Andrew S., Andrew S.; Orwin, Kate H.; Ostle, Nicholas J.; Seabloom, Eric William; Bakker, Jonathan D.; Biederman, Lori; Caldeira, Maria C.; Eisenhauer, Nico; Hagenah, Nicole; Hautier, Yann; Moore, Joslin L.; Nogueira, Carla;
Peri, Pablo Luis;
Risch, Anita C.; Roscher, Christiane; Schütz, Martin; Stevens, Carly J.;
Fuente
Global Ecology and Biogeography (First published March 2020)
Tipo de documento
artículo
Palabras Claves
Nutrientes; Nutrients; Especie Invasiva; Invasive Species; Praderas; Grasslands; Nitrógeno; Nitrogen; Biodiversidad; Biodiversity; Disponibilidad de Nutrientes; Nutrient Availability;
Derechos de acceso
Restringido

Excepto donde se diga explicitamente, este item se publica bajo la siguiente descripción: Creative Commons Attribution-NonCommercial-ShareAlike 2.5 Unported (CC BY-NC-SA 2.5)
Related items
Showing items related by title, author, creator and subject.
Agüero, Juan José

;

Kirschbaum, Daniel Santiago

(

2013

)

In annual strawberry (Fragaria x ananassa Duch.) production systems in Argentina, fertilizers are frequently applied without considering soil fertility, cultivar particularities, and nutrient use efficiency (NuUE). The ...

Rolandelli, Guido

;

Gallardo-Navarro, Yoja Teresa

;

García Pinilla, Santiago

;

Farroni, Abel Eduardo

;

Gutierrez-Lopez, Gustavo Fidel

;

Buera, María del Pilar

(

Elsevier

,

2021-02

)

The aim of this work was to evaluate the influence of partial replacement of maize flour by sub-valuated whole grain flours on the interactions and spatial distribution of the main components of extruded snacks. Non-destructive, ...

Martiarena, Rodolfo

(

Facultad de Ciencias Agrarias y Forestales, Universidad Nacional de La Plata

,

2016-04

)

El objetivo de la presente Tesis fue determinar el efecto de la disponibilidad de recursos sobre la eficiencia de uso y conservación de los nutrientes en función de las condiciones edafoclimáticas, edad y manejo de las ...