View Item
xmlui.general.dspace_homeCentros Regionales y EEAsCentro Regional Chaco - FormosaEEA Sáenz PeñaTesisxmlui.ArtifactBrowser.ItemViewer.trail
Evaluación in vitro de materiales de algodón Gossypium hirsutum L. en relación a la capacidad de regeneración y respuesta a estrés abiótico. Análisis de variedades comerciales de INTA, líneas avanzadas
Abstract
El algodón juega un rol crucial en la economía global, ya sea a nivel social como en la industria de manufactura. Dado que se necesita contar con genotipos de alta calidad agronómica, capaces de regenerar in vitro, y con la intención de ampliar la variabilidad disponible para la respuesta a distintos estreses abióticos, se evaluó los genotipos de algodón de INTA. Se encontró que el genotipo Guazuncho 2 se destacó en el número de plantas regeneradas, bajo [
ver mas...
]
The cotton culture plays a crucial role in the global economy, whether at social level as in the manufacturing industry. Given the need of have high quality genotypes agronomic, able to regenerate in vitro, and with the intention of extending available variability for response to various abiotic stresses, INTA cotton genotypes were evaluated. It was found that Guazuncho 2 genotype was highlighted in the number of regenerated plants under Hemphill et al. [
ver mas...
]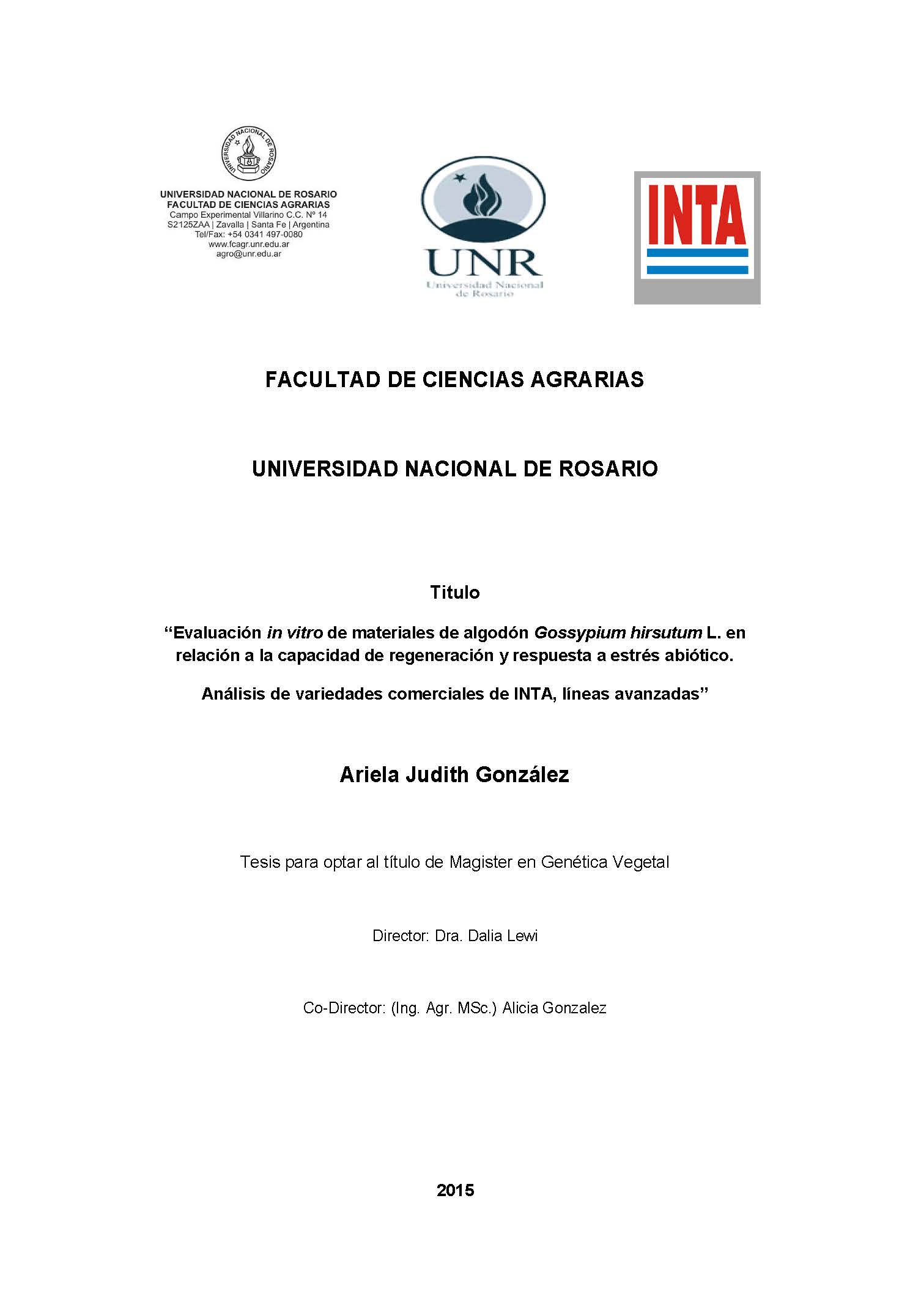 Descripción
Tesis para obtener el grado de Magister en Genética Vegetal, presentada en la Facultad de Ciencias Agrarias, Universidad Nacional de Rosario en 2015
Editorial
Facultad de Ciencias Agrarias, Universidad Nacional de Rosario
Tipo de documento
tesis de maestría
Palabras Claves
Gossypium Hirsutum; Variedades; Varieties; Estrés Abiótico; Abiotic Stress; Experimentación In Vitro; In Vitro Experimentation; Evaluación; Evaluation; Regeneración Vegetal; Revegetation; Regeneración in Vitro; In Vitro Regeneration; Resistencia Fisiológica al Estrés; Physiological Stress Resistance; INTA;
Derechos de acceso
Abierto

Excepto donde se diga explicitamente, este item se publica bajo la siguiente descripción: Creative Commons Attribution-NonCommercial-ShareAlike 2.5 Unported (CC BY-NC-SA 2.5)
Related items
Showing items related by title, author, creator and subject.
Molina, Sandra Patricia

;

Perez, María Laura

;

Rey, Hebe Yolanda

;

Mroginski, Luis Amado

(

2013

)

Tres tipos de explantes de dos clones (CH 14 INTA y CH 318 INTA) de té (Camellia sinensis (L.) O. Kuntze) fueron evaluados para su regeneración in vitro, bajo la influencia de dos citocininas (BAP y CIN) y una giberelina ...

Escandon, Alejandro Salvio

;

Aguirre, Eduardo Del Valle

;

Coviella, Maria Andrea

;

Iannicelli, Jesica

;

Perez De La Torre, Mariana

;

Elechosa, Miguel Angel

;

van Baren, Catalina María

;

Pacheco, Maria Gabriela

(

2016

)

Aromatic and medicinal plants have been traditionally harvested from the wild and, in Argentina, they have been exploited without any major limitation. In vitro plant propagation is an easy and inexpensive method to obtain ...

Foschi, María Laura

;

Martínez, Liliana Estela

;

Ponce, MaríaTeresa

;

Galmarini, Claudio Romulo

;

Bohanec, Borut

(

Universidad Nacional de Cuyo. Facultad de Ciencias Agrarias

,

2013

)

Doubled haploid onion (Allium cepa L.) plants allow the production of completely homozygous lines for a later production of hybrids. The haploid plants are normally produced using in vitro gynogenesis. The obtained haploid ...